IT Toolkits Newsletter

Business Continuity & Disaster Planning Requirements Defined
Cost Control Remains the Focus
of Many CIOs and CEOs

The IT Employee Confidence Index increased in the second quarter of 2010, according to a recent survey conducted by Janco and this indicates that overall confidence levels among IT workers surveyed has rebounded as a result of fewer workers believing the economy is getting weaker, and more workers reporting confidence in their personal employment situation.

Despite having to cope with massive budget cuts, salary freezes and demoralized staffs, most employed IT executives are more satisfied with their jobs this year than they have been in previous years, according to the results of a job satisfaction survey.

Part of the reason is that normally during a recession those who have jobs are very thankful and will "put up" with a lot because they know there are fewer options for them.

Read on.....
Business Continuity & Disaster Planning Requirements Defined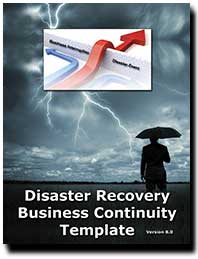 Business Continuity and Disaster Planning require data consistency with the synchronous replication of data over long-distances and / or journal replication to protect against local and wide-area disasters. This technology provides other benefits, including:
Maintaining more efficient data currency. Using synchronous replication over a short distance in a campus or metropolitan area cluster provides the highest level of data currency without undue impact to application performance.
Permitting swift recovery. A campus/metropolitan cluster implementation allows for fast automated failovers after a local area disaster with minimal to no transaction loss.
Permitting recovery even when a disaster exceeds traditional regional boundaries. A wide-area disaster could disable both data centers 1 and 2, but with some manual interaction, operations can be shifted to data center 3 and continue after the disaster.
Shifting to staffing outside the disaster area. A wide-area disaster also affects people located within the disaster area, both professionally and personally. By moving operations out of the region to a remotely located recovery data center, operational responsibilities shift to people not directly affected by the disaster.
Janco has defined a Template with a Backup and Backup Retention policy that is a complete policy which can be implemented immediately. The document is provided in both Word 2003 and MS WORD format and is easily modified. This policy is included in the Disaster Recovery / Business Continuity Template.

Below is a table from the policy.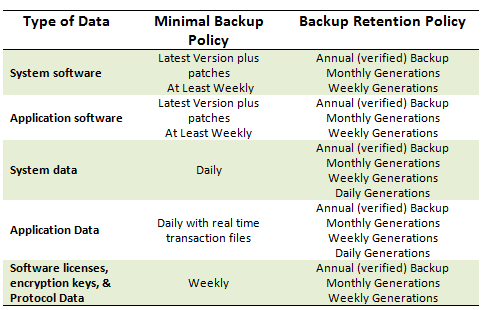 Read on...
Order Business Continuity Template
Cost Control Remains the Focus of Many CIOs and CEOs
The economic forecasts for the remainder of 2009 may be brighter -- but we are still in a recession. Many economists are calling for the economic downturn to last well into 2009 and some even say mid 2010. Because of these tough economic times, enterprises continue to focus on cost reduction and other forms of productivity improvement. To support the efforts Janco has identified several areas IT department can place their efforts.
They are:
IT Service Management - Change Control - Help Desk - Service Desks Over the past several years, there have been significant improvements in the tools available to IT support organizations. These tools can help in the automation of support and the remediation of problems. By deploying these tools, enterprise can optimize the size and the responsibilities of help desk personnel. This is the area where there are opportunities for significant cost savings and service level improvements.

Read on... Order Now...

Enterprise Architecture Optimizing the enterprise architecture to focus on operation's support can provide enterprises with immediate cost savings. By rationalizing the operation's portfolio, enterprises can reduce the costs associated with having redundant support contracts, over supporting, or under supporting IT systems. Enterprise Architecture has become a common practice for large IT organizations. For the first time there is a methodology to encompass all of the various IT aspects and processes into a single practice. However, realizing the full potential of enterprise architecture can be challenging. Read on... Order Now...


IT Infrastructure Management Infrastructure Management can provide enterprises with immediate cost avoidance as it can improve the utilization of the IT infrastructure. However, enterprises should not think that infrastructure management is limited only to computer hardware and software. Rather, infrastructure management also can provide benefits to the network and storage environment. To capitalize on the cost savings offered by infrastructure management, enterprises should investigate using an external IT services provider for developing the architecture, integration, and support for the IT operational environment.

Read on... Order Now...