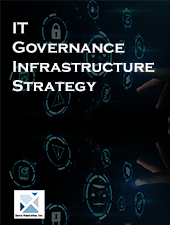 IT Infrastructure, Strategy, and Charter Template
With the explosion of technology into every facet of the day-to-day business environment there is a need to define an effective infrastructure to support operating environment; have a strategy for the deployment and technology; and clearly define responsibilities and accountabilities for the use and application of technology.
Included with the template are a HIPAA Audit Program Guide and a 19 page ISO 27001 and ISO 27002 Security Process Audit Checklist.  The Template is over 125 pages in length (the full table of contents can be downloaded by clicking on the link above).
Version 3.1

Added benefits section
Updated to comply with CobiT requirements
Added Security Management Compliance Checklist
Added Massachusetts 201 CMR 17 Compliance Checklist
Updated style sheet elements

Version 3.0

Updated style sheet to be CSS compliant
Updated to be HIPAA and PCI-DSS compliant
Added CIO Job Description
Added CIO Small Enterprise Job Description

Version 2.1

Added section defining ISO
Added section defining ISO 27000 standard series
Update template to comply with ISO 27001 and 27002
Update Security Process Audit Check List to comply with ISO 27001 and ISO 27002
Corrected errata

Version 2.0

HIPAA Audit Program Added
ISO 17799 Security Audit Checklist Added
Office 2007 Word file format added