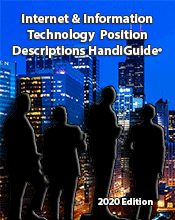 Job Description Bundles
Current and Usable Job Descriptions in MS WORD
Great IT Job Descriptions are a great resource for any IT manager looking to add or define IT positions. Janco has compiled complete descriptions for themost hired IT positions. Each 2-5 page description contains a detailed description of the responsibilities and of the recommended requirements for each position. The documents are in Microsoft WORD .docx format and can be easily customized to fit your unique needs. This unique resource will help you recruit and keep great staff and build the right department structure for your business.
273 detail Internet and IT job descriptions for both private and public (government) sector enterprises are available. They can be purchased individually or in bundles. 
To purchase an individual job description just click on the this button

and enter the title of the job description you are looking for.  For example: if you want to find a job description for a controller or System Administrator or CIO just enter that in the Search box in the screen that you get when you select the button above.