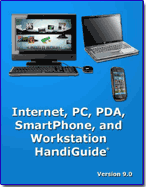 Internet, PC, PDA, SmartPhone and Workstation Policies and Procedures HandiiGuide Template
The use of the Internet, PC, PDA, SmartPhone and Workstation devices is critical to business operations and continues to explode as new applications and solutions are implemented each day. 
Terms such as cyberspace, information highway and the Internet are now part of everyone's vocabulary.  New operating systems, complex networks, inter-company e-mail and work at home programs have made the management of most enterprises understand the total effort required to support PCs, LANs and workstations.   With this in mind, we've developed the Internet and PC Workstation Policies and Procedures HandiGuide® to assist you in managing your environment with valuable guidelines, rules, forms, and standards that many enterprises have already adopted. 
Some of the chapter include:
Security Guidelines
Back-Up and Recovery
Service Requests
Electronic
Communication
Internet
Security Guidelines
Facility Requirements
Local Area Networks
Business Resumption
Plan
Applications Development Standards
Viruses
Justification, Acquisition & Support
Manager's PC & LAN
Responsibilities
Change Control
How to get Technical Support
Full Index