Travel and Off-site Meeting Policy
Data is at risk as more of it becomes portable with SmartPhones, tablets, and cloud applications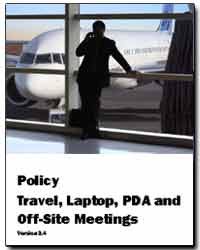 Travel and Off-Site Meeting Policy - Protection of data and software is often is complicated by the fact that it can be accessed from remote locations. As individuals travel and attend off-site meetings with other employees, contractors, suppliers and customers data and software can be compromised. This policy covers:
Laptop and PDA Security
Wireless and Virtual Private Networks (VPN)
Data and Application Security
Public Shared Resources
Minimizing attention
Off-Site Meetings
Remote Computing Best Practices
This policy has been updated to reflect the requirements of PCI-DSS, Sarbanes-Oxley, HIPAA, and ISO. The policy comes as both a WORD file and a PDF file utilizing a standard CSS style sheet.
Order Travel Off-Site Meeting Policy Travel Off-Site Meeting Policy TOC
---
CIO IT Infrastructure Policy Bundle
Janco has combine the policies that it has developed over time with some of the best IT organizations around the globe into a single package. With this bundle you get a PDF file that has all of the procedures in a single document that is over 300 pages long. It would take your staff months to develop these procedures from scratch. In addition you get a separate MS-Word document for each procedure which can easily be modified.
This bundle contains the following policies:
Order IT Policy Bundle Download Sample Infrastructure Policies