Record Retention and Destruction Policy Template
Read on Record Management Policy Order Records Management Policy Download Sample Policy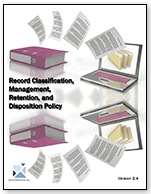 Current Rules and Regulations Regarding the Protection and Destruction of Confidential and Sensitive Documents require that any person or company that possesses or maintains such information to take reasonable measures to protect against unauthorized access to, or use of the information in connection with its disposal.  In addition Sarbanes-Oxley requires that records be retained for all audits and legal proceedings.
Some of the records types and retention time periods for physical and/or electronic records are: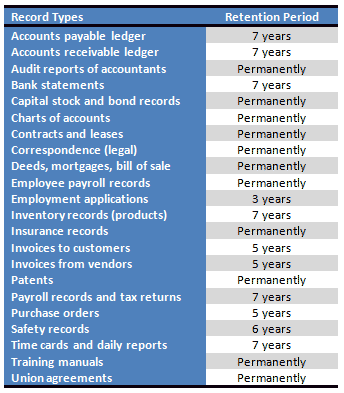 The Record Management, Retention, and Destruction is a detail policy template which can be utilized on day one to create a records management process.  Included with the policy are forms for establishing the record management retention and destruction schedule and a full job description with responsibilities for the Manager Records Administration.
You areas included with this policy template are:
Record retention requirements for SOX sections 103a, 302, 404, 409, 801a and 802.
Policy
Standard

Scope
Responsibilities
Record Management
Compliance and Enforcement
Email Retention and Compliance

Job Description Manager Record Administrator
12 forms for Record Retention and Disposition Schedule
A record is essentially any material that contains information about your company's plans, results, policies or performance. In other words, anything about your company that can be represented with words or numbers can be considered a business record – and you are now expected to retain and manage every one of those records, for several years or even permanently depending on the nature of the information. The need to manage potentially millions of records each year creates many new challenges for your business, and especially for your IT managers who must come up with rock-solid solutions to securely store and manage all this data.
"The Financial Modernization Act of 1999", also known as Gramm-Leach-Bliley (GLB Act) applies to every business with 100 or more annual transactions, and gives authority to eight (8) federal agencies and each state, to administer and enforce the Financial Privacy Rule, Disposal Rule and the Safeguards Rule contained in the FACT Act.  The Federal Trade Commission is actively enforcing this Act in the following business segments:
Financial institutions - lenders and traditional financial institutions, insurance companies, banks, securities firms are the primary targets of enforcement. Also receiving scrutiny are: auto dealers (leasing and financing departments, service and rental divisions), of particular interest to the enforcers are auto rental agreements, drivers license copies – used for test drives; mortgage brokers, real estate settlement companies, and those retailers who issue credit cards, gift cards or related items.
Service institutions -payday lenders, check-cashing services, professional tax preparers, accountants, and electronic funds transfer networks, as well as credit counselors, independent psychologists, and related service firms are also targets.
There are hundreds of document types that may factor into an investigation or legal action.  Such records are assumed to be searchable and quickly available upon request, under the rules of SOX. This even applies to less official types of records, like Emails or instant messages.