Recession Ending - Recruiting Starting
As the economy turns around and companies begin the hiring process our Interview and Hiring Guide will help to create an interview and hiring processes that facilitates improved uniformity and efficiency in the process. With this addition to the IT Hiring Kit, CIO and IT recruiters have the tools necessary to ensure the best qualified candidates are asked all of the right questions and the risk of adverse legal actions by rejected candidates is minimized.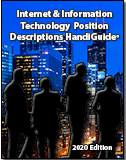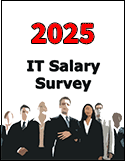 If as some say, the recession is almost over then an explosion in IT hiring will take off. Bonuses and benefits are down, and workloads and work hours have increased. Salaries are stagnant and -- not surprisingly -- satisfaction is on the wane. This is perfect storm when the economy turns employees will be looking for new jobs and demand will be up for those that leave -- Are you ready?

Building the IT Staff your company needs to succeed requires offering the right jobs at the right salary levels. Only the IT Hiring Resource Kit provides the industry-standard job descriptions and up-to-date salary data you need to recruit top talent as effectively and efficiently as possible.

This indispensable resource provides up-to-date salary data gathered through an extensive survey of businesses throughout the United States and Canada, plus polished job descriptions for the IT positions surveyed. This proprietary information will reduce the time it takes to recruit top talent and ensure that you get the right person for each job.
Read On IT Hiring Kit Order IT Hiring Kit Download IT Hiring Kit TOC