Become A Survey Participant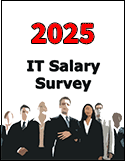 Janco Associates, Inc. has published a bi-annual information technology compensation survey for over ten years.  
 Participate by providing us valid data and we will be able to download a complimentary copy of the summary results  upon its completion. In addition,  you may be eligible to purchase the full study at a significant discount.
These results will be available in January. To participate, simply click the Participate button below and complete the on-line Compensation Participation Survey.  
You can download our participation excel spread sheet
IT Salary Survey Read On Order Salary Survey Download Salary Survey Summary
Please be assured that any compensation information provided to us will be held in the strictest confidence.