Windows 7, Internet Explorer Tracked
A marketing report released this week profiled two important Microsoft products, with mixed results.
The good news for Microsoft is that Windows 7 is quickly gaining in popularity. However, Internet Explorer's share of the browser market has continued to wane in the last year.
IE still retains its lead among Web browsers with a 64.8 percent market share in February of this year, according to a report by Park City, Utah-based Janco Associates. Still, IE has lost more than 6 percent compared with its position in the market in February of 2009. Meanwhile, Windows 7 has gained 12 percent of the operating system market in less than seven months since its release.
"The last six months have been a mixed bag for Microsoft," M. Victor Janulaitis, CEO of Janco Associates, wrote in the report announcement. "Their browser market share has fallen to [the] level that they [were at] back in 1998 with no end in sight." However, the popularity of Windows 7 has been a major factor in Microsoft's improved earnings, Janulaitis wrote.
"Windows 7 is viewed by many users as one of the better product releases that Microsoft has created in the last few years," Janulaitis noted.
Second in line in the browser competition space is the Mozilla Foundation's Firefox browser, which has remained steady at 17.4 percent in the last year. Google Desktop and the Chrome browser have a 5.8 percent market share (a 2.12 percent increase). Mozilla SeaMonkey and Apple Safari each have less than 2 percent, representing a slip for SeaMonkey and an increase for Safari.
Figures in the Janco Associates report tracked somewhat with those measured by Net Applications. According to Net Applications' online database, IE's market share was 62.1 percent in January 2010, having slumped from 69.2 percent in February 2009.
The browser market may soon stabilize, according to Janco Associates' report, particularly since interest in Google Desktop and Chrome has decreased with the release of IE 8.
"We feel that Microsoft will continue to see an erosion of its IE market share until it stabilizes at a level that sets a market equilibrium with room for Firefox, Chrome and the other browsers," Janulaitis wrote in an e-mail interview. "We do not yet know what that level will be -- perhaps a good guess would be between 55 and 60 percent."
While Firefox has challenged Microsoft's dominance, the report found that adoption of Firefox has stalled as IE and Chrome now offer many of the same features. Still, the report suggests a few reasons Google could gain greater browser market share. First, Chrome has a "clean" user interface. For enterprises looking for alternatives to Office 2010 and Office Web Apps, Chrome offers a way to integrate the desktop apps with the Internet. Nonetheless, the report still portrayed Google's Chrome results as disappointing.
"The door was open for Google with both Desktop and Chrome -- however, we think that door is closing," the report states.
Data from Net Applications provides a different view, showing that Google's browser market share had more than tripled over a year's time. Chrome had a 5.2 percent market share in January 2010 vs. 1.5 percent in February 2009 -- a sign of success.
Microsoft faces some stumbling blocks in the browser market, such as the release of a browser "ballot option" for the European Union, Janulaitis noted by e-mail. In addition, Microsoft must deal with equipment manufacturers aiming to get their own customized browsers loaded on new PCs.
The top five browser market share rankings are: 1 - Microsoft's IE – 64.78%; 2 - Firefox – 17.38%; 3 – Google (Desktop & Chrome) – 5.78%; 4 – Mozilla – 1.73%; 5 – Safari– 1.39%. The CEO of Janco Associates, Inc and the ITPC, M. Victor Janulaitis said: "The positive glow on Google's Chrome was dulled in with the identification of some defects in the way it handles XML pages. But the real story is the continued erosion of Microsoft's" market
Trends in Browser Market Share 12 Months - February 2010 – February 2009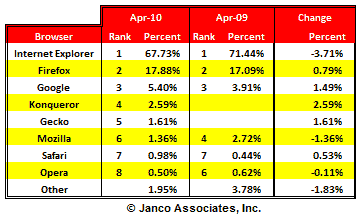 Windows 7 is an initial success
A major finding in the report is that Microsoft's new Operating System, Windows 7 has 12.05% of the OS market less than 7 months after its release.  That is a major factor in their improved record earnings.  Janulaitis said, "The last time that an OS was accepted as quickly the market was XP.  Vista's market share has peaked and is in the process of being decommissioned in most enterprise."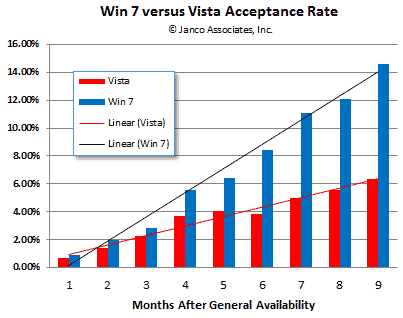 Order Browser OS Market Share Study Download Sample
A summary of Janco's browser market share data can be found on the Janco's web site (https://www.e-janco.com/browser.htm). In addition the full white paper with excel spread sheets can be purchased at both sites for $249.

Janco's has collected consistent data on browser activity since September 1997. The data is collected from commercial sites that focus on business to business activity. The IT productivity Center anticipates that it will issue an update to it market share data at the end of the fourth quarter of this year.