IT Jobs, Salaries Rising
There is a compensation increase underway for many IT positions, especially that of CIO, notes survey.
Fortune is beginning to shine on insurance IT workers. According to the "Mid-Year 2010 IT Salary Survey," released by Janco Associates, hiring is picking up in some sectors of the IT job market, and salaries have stopped falling. 
According to the survey, 12-month comparisons show mean compensation (including bonuses) for all IT executive positions in large enterprises surveyed to be $143,378 (a slight increase from $142,753) and $125,079 (a slight decrease from $126,031) in mid-sized enterprises.
Overall compensation for all IT professionals increased slightly from $77,690 to $78,210. However, Janco found that there was a 13% decrease in the number of employees receiving personal performance bonuses, and a 7% decrease in those receiving enterprise-based performance bonuses.
"Even though many fear a second dip in the economy, CIOs in larger enterprises have been given the 'yellow light' to look ahead and fill positions that were left unfilled last year," said Janco CEO Victor Janulaitis. "The same is not the case for mid-sized companies. They are much more cautious and concerned that the recovery will not be strong enough to support increased IT spending." 
Janco conducted some follow-up interviews of the participants, and found that CIOs are starting their 2011 planning processes with the assumptions that the economy will improve in the first part of next year. Janulaitis believes that if this holds true, hiring and compensation should pick up.
Salary Data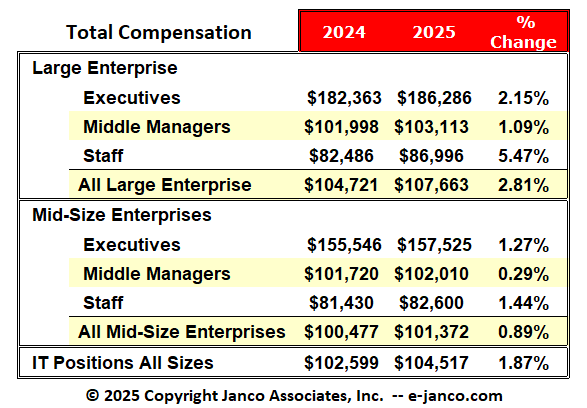 The compensation study (155 plus pages in PDF or WORD and EXCEL with the data) can be ordered here
Order Salary Survey Download Salary Survey Sample