U.S. tech salaries flat 2 years running
Salaries have been flat for several quarters, however, along with what we've been hearing about an uptick in IT hiring for 2011 and the rise of contracting that's expected to become part of the "new normal," IT salaries are expected to go up this year, according to the 2011 Salary Survey from Janco Associates.

Tech workers pulled in an average of $79,384 last year, an increase of 0.7% over 2009. It was the "second straight year of nearly flat salaries," according to Dice.com, the online job site which surveyed nearly 20,000 tech pros in North America between Aug. 31 and Nov. 15. Silicon Valley is making a comeback, though, with average salaries approaching six figures.

About half of tech professionals said they were satisfied with their pay, but nearly 40% believe they could improve their salaries by switching employers in 2011.
"Companies can no longer get away with paltry salary increases for their technology staffs based on the demand we are seeing for talent," senior vice president for Dice, said in the announcement. "The moderate increases in satisfaction levels indicate that tech professionals' concerns are being heard by some companies, but certainly not all. Retention is the key to driving additional contributions to the business from technology staffs. Employers that are reluctant to increase compensation or step-up retention efforts will likely pay for their unsatisfactory ways."
While overall tech salaries improved slightly, technology professionals just entering the field now can expect to make less than if they got their first jobs a few years ago. "For the second straight year, the average salaries of technology professionals with less than two years' experience have declined, and are six percent below their peak average wages in 2008," Dice said.
Working for larger companies, and adding expertise and skills seem to be the two most effective ways of boosting salary. Location also matters. Silicon Valley tech workers saw a 3% salary increase to $99,028, after a decline the previous year. More than one-third of Silicon Valley workers received a bonus in 2010, up from 26% the previous year. New York and Washington, D.C./Baltimore employees also receive significantly higher salaries than the average tech worker, at $87,298 and $89,149, respectively.
Several fields within high-tech are offering average salaries in the six-figure range. Advanced business application programming, for example, clocks in at $105,887. Informatica database experts earn an average of $101,989, service-oriented architecture professionals take in $101,827, and project managers are at $100,143, according to Dice.
In terms of overall demand, the most frequently requested skills are Oracle; J2EE/Java; and C, C++, C#.
"Currently, Oracle experience is requested in more than 15,000 job postings on any given day or nearly a quarter of all job postings on Dice," the company says. "Demand for that top requested skill is up 57 percent year/year. The national average salary for technology professionals with experience in Oracle Database is $90,914 and for Oracle Application Server is $88,063."
J2EE/Java attracted 14,663 job postings, up 50% over the previous year, and there are 14,123 jobs requesting C, C++, C# skills, up 46%. "Technology professionals proficient in J2EE/Java earn on average $91,060, while programmers specializing in the C languages earn between $85,500 and $90,350 on average," Dice said.
To download the full salary survey, click here.  
Salary Data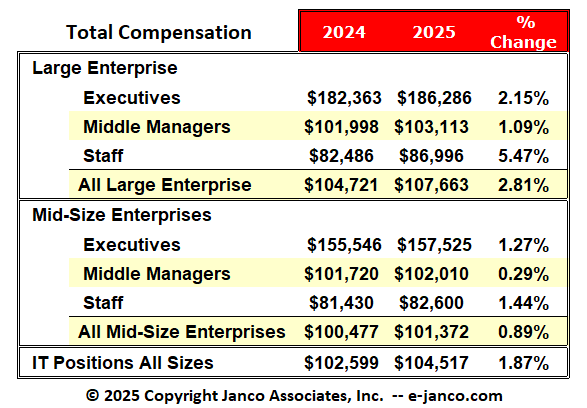 The compensation study (155 plus pages in PDF or WORD and EXCEL with the data) can be ordered here
Order Salary Survey Download Salary Survey Sample  
If you  do not want to purchase the full salary study, you can get just the data for a particular city for a fraction of the cost of the full study.  Just  click here to see all the cities covered or select your city for the order page.