Internet, PC, PDA, SmartPhone, and Workstation HandiGuide Updated by Janco
Internet, PC, PDA, SmartPhone, and Workstation HandiGuide version 9.0 has just been released
Janco Associates has just updated its Internet, PC, PDA, SmartPhone and Workstation HandiGuide.  The electronic document now contains a social networking and a telecommuting policy.  Victor Janulaitis the CEO of Janco Associates said, "This HandiGuide and its updates are a culmination of work of scores of IT professionals who have a vested interest in making it easy to use the last es technologies in the day-to-day work efforts of the average worker.  It is very pragmatic document that can serve as the basis for the creation and implementation of policies and procedures in enterprises of all types." He added, "This is a tool that every manager in small to mid-sized enterprises s should have."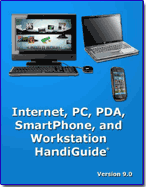 The Internet, PC, PDA, SmartPhone and Workstation HandiGuide, which is over 160 pages in length, is a detail template with sample forms that can be easily modified to meet an enterprise's unique requirements.  The eBook is delivered in MS WORD .docx and book marked PDF formats.  With the enterprise license the HandiGuide can be distributed as a PDF document that can be view easily on an iPad or other tablet devices.
Janulaitis said, "The use of the Internet, PDAs, SmartPhones, PCs and networked workstations has exploded.  Terms such as cyberspace, information highway and the Internet are now part of everyone's vocabulary.  New operating systems, complex networks, inter-company e-mail and work at home programs have made the management of most enterprises understand the total effort required to support PDAs, SmartPhones, PCs, and workstations.  This HandiGuide addresses this need."  
Topics covered include: security guidelines, backup and recovery, service requests, social networking policy template, telecommuting policy template, electronic communication, Internet, facility requirements, local area networks, disaster recovery, business continuity, application development standards, virus management, justification, acquisition and support, responsibilities, change control, sensitive information management, help desk, technical support, sample forms, and much more.