IT Hiring Stalled in March According to Janco
BLS data shows new job creation is almost nonexistent, hiring is limited to replacing critical staff according to Janco Associates
"Hiring for information technology workers stalled in March, according to a report by Janco Associates, Inc. Companies were reluctant to hire in an uncertain economy, and also were discouraged by the financial impacts of sequester, tax considerations and the cost of healthcare insurance for new employees." - Wall Street Journal April 9, 2013
"According to BLS there were only 5,400 jobs created for IT professionals – down from 9,800 created in January," said M.V. Janulaitis, CEO of IT consulting company Janco Associates, adding that more people are leaving the job market, contributing to falling unemployment numbers.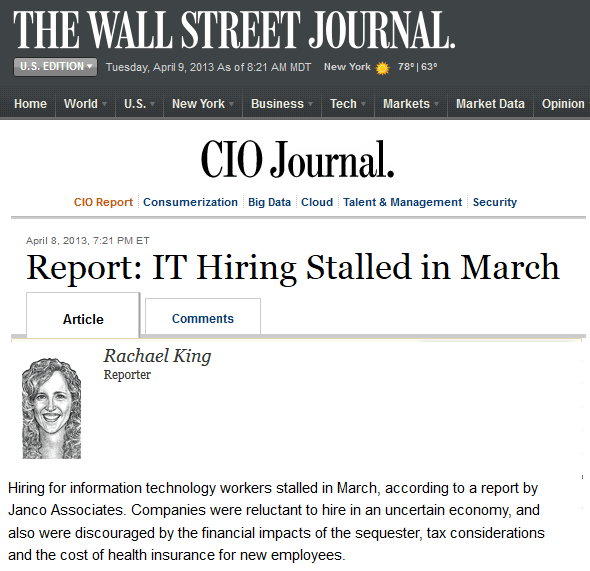 "In telephone interviews of 97 US based CIOs in late March, we found that many companies are uncertain of which way the economy is going with sequester, tax increases and unstable world political situation. CIOs continue to closely manage their overall FTE (full time equivalent) headcounts level and adding staff for critical new developments," Janulaitis said, adding that the number of bullish CIOs has declined.

One notable exception is in the health care sector, where the IT job market continues to expand, which Janulaitis attributes to the implementation of electronic patient records (see chart above).
Order Salary Survey Download Salary Survey Sample  
Salary Survey City Version
Salary data for the city surveyed in the form of an Excel Spread Sheet
Median salary data for entire survey in the PDF report
Single paragraph summary job description of the 73 positions surveyed
Abbreviated Salary Survey Report PDF
Salary Survey Standard
Median salary data for entire survey in the PDF report
Single paragraph summary job description of the 73 positions surveyed
Full Salary Survey Report
Salary data for each city surveyed in the report
Update service Available
Salary Survey & Excel Data
Median salary data for all cities in the survey in the PDF report
Single paragraph summary job description of the 73 positions surveyed
Full Salary Survey Report
Salary data for each city surveyed in the report plus an Microsoft EXCEL spreadsheet
Update service Available
IT Hiring Kit Standard Edition
Median salary data all cities in the survey in the PDF report
Single paragraph summary job description of the 73 positions surveyed
Full Salary Survey Report
Salary data for each city surveyed in the report plus an Microsoft EXCEL spreadsheet
73 full multipage job descriptions in PDF format
Update service Available
IT Hiring Kit Standard Edition
Median salary data all cities in the survey in the PDF report
Single paragraph summary job description of the 73 positions surveyed
Full Salary Survey Report
Salary data for each city surveyed in the report plus an Microsoft EXCEL spreadsheet
73 full multipage job descriptions in PDF format
73 full multipage job descriptions in Microsoft WORD format - one file for each job description utilizing long file names
Update service Available
IT Hiring Kit Standard Edition
Median salary data all cities in the survey in the PDF report
Single paragraph summary job description of the 73 positions surveyed
Full Salary Survey Report
Salary data for each city surveyed in the report plus an Microsoft EXCEL spreadsheet
73 full multipage job descriptions in PDF format
324 full multipage job descriptions from the Internet & IT Position Descriptions HandiGuide in PDF format
Update service Available
IT Hiring Kit Standard Edition
Median salary data all cities in the survey in the PDF report
Single paragraph summary job description of the 73 positions surveyed
Full Salary Survey Report
Salary data for each city surveyed in the report plus an Microsoft EXCEL spreadsheet
73 full multipage job descriptions in PDF format
324 full multipage job descriptions from the Internet & IT Position Descriptions HandiGuide in Microsoft WORD format - one file for each job description utilizing long file names
Update service Available