Cloud Computing Key to Disaster Recovery Planning
Tuned, pretested DR support capabilities and services are now helping midsize company managers reduce the risks of an extended business outage due to disaster, and at more reasonable costs than ever before. Today, it is possible to put in place disaster recovery technology and practices that may cost less per user supported than older technology that did not support DR.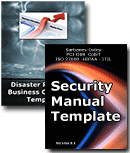 Cloud computing is one possible answer to the need for such flexibility,providing a highly automated,dynamic alternative for the acquisition and delivery of IT services. Today users are tapping into public and private clouds for computing resources and services without having to address the underlying technology. Companies are leveraging the massive scalability and collaboration capabilities of cloud computing to solve problems in ways that just were not possible before.
They are deploying new services with greater speed and without additional capital investment. As IT budgets continue to be stretched,cloud computing is enabling CIOs to do more with less. Virtualization,standardization and other fundamental features of cloud are lowering the cost of IT,simplifying IT service management and accelerating service delivery.
Such operational efficiency is helping companies capitalize on the globally net-worked world. It is enabling CIOs to leverage the infrastructure more effectively to support the business goals of their company. By lessening the drag on data center resources,cloud computing is enabling IT to hone in on real value creation,namely innovation. Rapid,technology-enabled innovation is vital to staying afloat in a highly volatile and uncertain economy. Cloud computing provides the platform for optimizing operations while creating and delivering the kind of innovative services that differentiate and propel the business forward.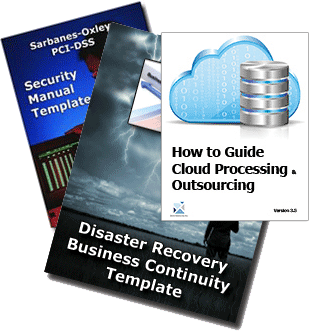 These new DR implementations have provided some midsize companies with the means to avoid shutdowns when and if their IT centers go offline - reducing expected disaster-induced outage hours (downtime) per year. Importantly, research shows these implementations can reduce costs by more than 35% compared with unprepared centers using older technology.
Advanced processes and technologies can ease the backup process, introduce more automation into the data replication process, and enable IT staff to protect more applications with restart and recovery capabilities. Executives of midsize businesses may wonder how to prepare for the possibility that a calamity could wipe out their IT operations. The words "disaster recovery" (DR) evoke images of the earthquake in Japan, or flooding in Chicago and Japan - events that took businesses of all sizes offline.
However, it's important to know that many business-disrupting outages result from causes far less dramatic than natural disasters. Everyday events - such as construction crews cutting through a power line, an air conditioning failure, a network provider interruption, or a security issue - can take systems offline. These interruptions happen more than most midsize business managers expect and with increasingly critical impact, as customers become more accustomed to accessing online information and placing orders online.
Read On Cloud... Order Now Download Sample How to Cloud Outsourcing
---
Disaster Plans Fall Short of Requirements
Recent Events Highlight Shortcomings in Disaster Recovery and Business Continuity Plans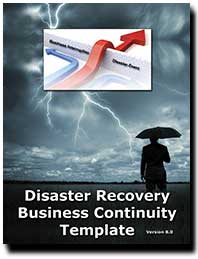 CIOs and individuals responsible for the recovery process have found found there were many partial, outdated, or ineffective disaster and business continuity plans out there.  Why was it so difficult to get it right?
Experts say there are 5 main reasons for this:
Data collection: How was the data collected for the disaster and business continuity plan in the first place? There is was no one single source for everything was needed, particularly when trying to integrate relevant external information such as support dates, power consumption, etc
Data inconsistency: How organizations handle the inherent inconsistencies in data? For example, OS version numbers are often conflicting; vendors change their product names or renumber versions over time, etc. Normalizing the data (making it adhere to consistent rules and categories) is a cumbersome task and the accuracy and consistency of the data needs to be reassessed at every step.
Categorization: When CIO want to categorize the information in the disaster and business continuity plan, you have to create the taxonomy (or hierarchical categorization) for the industry data. This alone is a significant task, there are many ways to slice and dice the universe of technology products, and no standards have been defined within the
Manageability:  Any extensive technology disaster and business continuity plan is a large and complex data store. A spreadsheet is insufficient for storing and managing rich structured data for thousands of products and vendors. The disaster and business continuity plan should be able to track and maintain the complex relationships between technologies and categories (parent/child relationships, one-to-many mappings, and so on). Developing an appropriate, extensible data store is a complex undertaking.
 Maintenance:  As soon as organizations have finished the disaster and business continuity plan, they have to start updating it. The Information Technology industry is constantly changing, which means that the DRP / BCP work is never done. If companies go through a massive effort to produce a disaster and business continuity plan for a single business function, the value of that investment is lost if you cannot keep it up to date.
---
Infrastructure size is increasing - data may overcome users
Recent surveys show that nearly two-thirds of companies expect up to 30% data and record growth in the next year, and 75 percent of companies now expect to be able to restore large quantities of lost data in less than three hours in the event of data corruption, server crash or other type of outage. How can you keep up with the increasing volume of data that needs to be backed up while still assuring compliance with regulations and corporate policies, keeping costs under control and guaranteeing that you can restore the data in a timely fashion?
According to industry experts, there will be over 58 million virtual servers in use by the end of 2010. This represents a huge volume of data being added to environments just in terms of operating system copies and related data.
To make life a little more challenging, research shows that 80 percent of every IT dollar will be spent on infrastructure maintenance, limiting budgets available for new technologies to improve the business. Research also shows that over 70 percent of data created today resides outside of the corporate data center, requiring companies to look for ways to manage and protect data in many locations.
Recent surveys show that nearly two-thirds of companies expect up to 30% data growth in the next 12 months, and 75 percent of companies now expect to be able to restore large quantities of lost data in less than three hours in the event of data corruption, server crash or other type of outage.
If you don't have proper backup processes and technologies in place, you are playing a dangerous game with your company's future - it's not a question of if valuable business data will be lost, but when. And even if you do have a process in place, it might not be able to keep pace with the rising tide of data that is being generated.
Read on Record Management Policy Order Records Management Policy Download Sample Policy
---
Security Policy and ProcedureTemplate
Data Security and Protection are a priority and this template is a must have tool that every CIO and IT department must have. Over 3,000 enterprise worldwide have acquired this tool and it is viewed by many as the Industry Standard for Security Management and Compliance.
Security Policies and Procedures read on Order Security Manual Template Download Sample Security Manual
---
Infrastructure Policies - World Class Solution That Is Easy To Implement
Experts Agree This Is A World Class Product

When a CIO or an IT Executive takes over a new job one of the greatest challenges is to quickly validate that the infrastructure that is in place. Would it not be nice to have some tools that could be use to quickly put proven world class policies in place with minimal effort. That is what the CIO IT Infrastructure Policy Bundle does.
Gain control over your IT realm! Download a collection of over Janco's IT infrastructure and policy templates. Each can be modified to align with your needs. This comprehensive collection comes with a variety of highly-researched tools that will help you develop a complete guide that fits the unique needs of your organization and provides tools and suggestions for policy communication and enforcement.
Defining Your Optimal IT Infrastructure is a critical task that can no longer wait with all of the changes mandated by PCI-DSS, HIPAA, ISO, ITIL, Sarbanes-Oxley, changing economic environment, and changes to enterprise operating environments.
Read On... Order IT Policy Bundle Download Sample Infrastructure Policies