CIO Tenure, Role and Compensation

CIOs who last more than 2 years in companies tend to remain in those jobs for a long time -- The implication is that CIOs need to hit the ground running and implement solutions that take less than 18 months, meet objectives, and are on target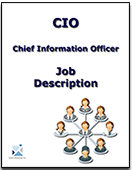 In a survey of companies in the United States, South America, and Europe Janco has found that newly hired CIOs jobs are not very secure in the current economic conditions.  The CEO of Janco, Victor Janulaitis said, "We have seen a fairly steady change in the roles and successes of CIOs.  We conducted a preliminary review of CIO turnover in a number of companies.  The companies were of all sizes and our preliminary results are that the median length of employment was approximately 4 years and 2 month."  He added, "There are a fair number of CIOs who have been in their positions for over 7 years, many of them are close to retirement age but have retirement portfolios that are not as large as they had hoped.  As a result we feel that many of these executives will defer their retirements for at least one to two years. That is not a good sign for the next level down who want to be promoted."
Read On... Order IT Job Descriptions Download Table of Contents
---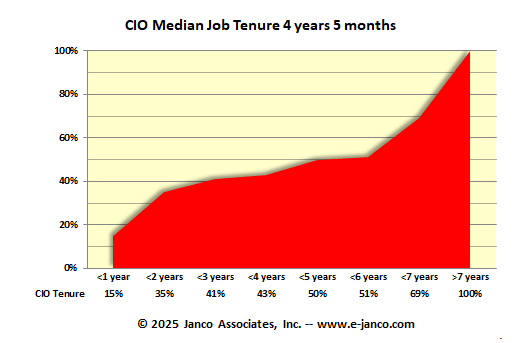 Orginal chart was replaced and updated with the last data on CIO Tenure
Janco conducted this survey via telephone and e-mail.  These results will be published in Janco's Salary Survey which is due to be released in early in January.  
CIO and CTO Role is Changing and Must Dos to be Successful
The role of the is changing for these executives.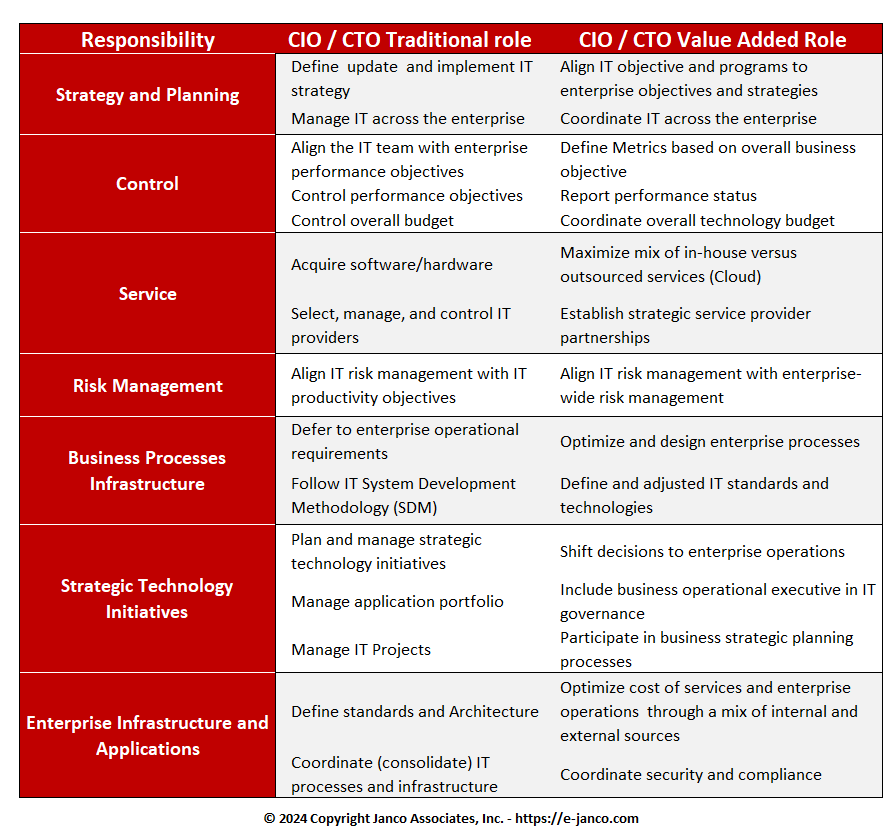 High Compensation for Top CIOs
In compiling this data Janco reviewed SEC filings and found that there are a number of CIOs who were paid over $2,000,000 last year. Some of them have retired or already left those positions.
Order Salary Survey Download Salary Survey Sample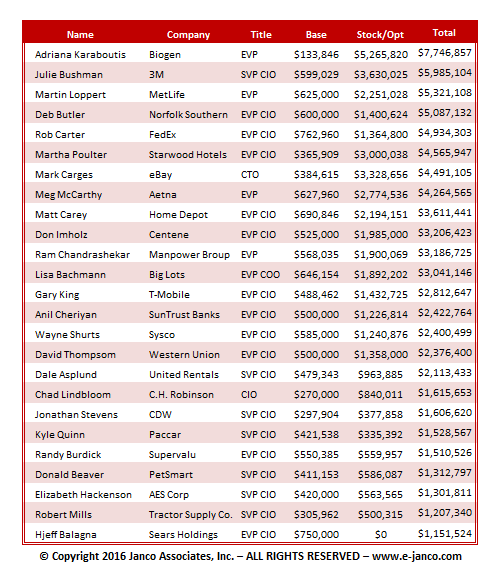 Janco says,, "Bonuses are showing that companies are look for enterprise revenue improvements and want to motivate employees to focus on improving the company's bottom line over and above everything else."
CIO Compensation
Janco has captured IT compensation data since 1996 and publishes its IT Salary Survey semi-annually.  The IT Salary Survey is based on Janco's IT professionals' compensation database.  Compensation benchmark hiring and salary ranges are established for each position surveyed.  In analyzing the study data, the upper and lower quartiles are eliminated to determine the benchmark ranges.  The benchmark ranges are then used to assess the alignment of a company's actual compensation to the marketplace for each job function.
The chart below was extracted from Janco's 2012 IT Salary Survey.
---
Latest Median IT Salaries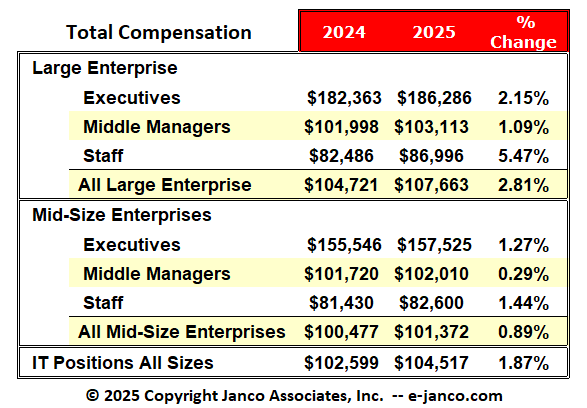 For the latest data go to the current IT Salary Survey
---
Order Salary Survey Download Salary Survey Sample  
---
Participate in IT Salary Survey
Janco Associates and eJobDescription.com have been conducting IT salary and compensation surveys for over 20 years.  They are recognized industry leaders in the area of compensation and benefits and have been reported on by CNN and the Wall Street Journal.  Many recruiters, organizations and publications use the January Salary Survey as the benchmark for compensation for IT Professionals.

We are just beginning to collect data for the IT Salary Survey.  If you do that now in January when we issue the study you will receive copy of the study via e-mail in PDF format. 
Order Salary Survey Download Salary Survey Sample  
---
Become a Member of the CIO Survey Forum

Janco publishes data every month on the state of the nation for CIOs.  We do this by conducting brief e-mail and telephone surveys each month.  The options expressed and data presented by members of the survey forum is kept confidential and not shared in any way that involved members of the forum or their organization's can be identified. 
To join go to Janco CIO Survey Forum Membership Request
---