VoIP Business Resource Kit
Tactical Kit - PowerPoint and Word Templates
Analyze and Present Your Company's
Business Case for Today's Hottest Technology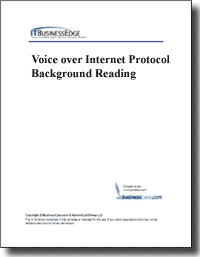 The VoIP Business Case Resource Kit provides both the background information and document templates you need to understand, quantify and explain the Voice over Internet Protocol options for your company. Our editors assembled a complete set of resources that will guide you through the process of considering which VoIP options make sense for your organization and presenting that information to upper management.
You could easily spend more than a week hunting down the research included in this package and building the Microsoft Office templates that perform pro forma financial calculations, chart them over time, and present the business case to stakeholders in your company. Save time and money while ensuring you make the the right decision on this critical technology. Order your VoIP Business Case Resource Kit today!
Learn the Background
The VoIP Business Case Resource Kit provides all the background you need to understand the role VoIP could play in your organization's business infrastructure. In addition to the benefits and considerations detailed in the business case template, the Resource Kit includes a background reading list selected by the Janco Associates' editors, with summaries and links to the most informative VoIP content published.
Packed with relevant VoIP information, this resource kit would be a worthwhile investment even if you used it only as an instructional tool for your management team.
Run the Numbers
However, every business case comes down to dollars and cents, so the VoIP Business Case Resource Kit provides Microsoft Excel worksheets to help you quantify the potential costs, savings and key financial metrics for your company. It also comes with linked Excel charts that make it easy to understand and present your financial projections.
Present the Case
Because explaining your business case to management is essential, the VoIP Business Case Resource Kit provides both an editable Microsoft Word business case template and a PowerPoint presentation that's linked to your financial projections.
With this comprehensive set of tools at your disposal, you'll be able to analyze, quantify and explain where VoIP fits into your company's plans. The information and functionality combined in this unique package can easily save you weeks of staff time and thousands of dollars.