Novelty of Firefox wearing off
A new report by Janco Associates noted that Microsoft's Internet Explorer browser has lost more than 12 percent of its market share since February 2007, courtesy of competing browsers like Firefox and Chrome. Fortunately for Microsoft, interest in these competing offerings appears to have dipped with the recent release of IE 8.
The report from Janco Associates, reported in Network World, elaborated, "The acceptance of Firefox has stalled as the novelty and uniqueness of its features has worn off and has been duplicated by Microsoft's IE. Firefox is no long unique as both IE and Google's offerings provide most of the same features." In fact, the research firm said the seemingly stalled interest is "a major defeat" for Google.
Personally, while I agree that the features in Firefox are no longer unique, I think it's still far too early to dismiss Chrome. Indeed, it was only recently that Google released the latest version of the browser with support for plug-ins. What do you think? Do you think IE will still be dominant in a couple of years?
The top five browser market share rankings are: 1 - Microsoft's IE – 64.78%; 2 - Firefox – 17.38%; 3 – Google (Desktop & Chrome) – 5.78%; 4 – Mozilla – 1.73%; 5 – Safari– 1.39%. The CEO of Janco Associates, Inc and the ITPC, M. Victor Janulaitis said: "The positive glow on Google's Chrome was dulled in with the identification of some defects in the way it handles XML pages. But the real story is the continued erosion of Microsoft's" market
Trends in Browser Market Share 12 Months - February 2010 – February 2009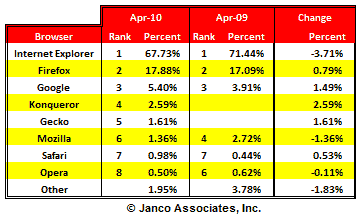 Order Browser OS Market Share Study Download Sample
A summary of Janco's browser market share data can be found on the Janco's web site (https://www.e-janco.com/browser.htm) and the IT Productivity Center's web site (https://www.e-janco.com/browser.htm). In addition the full white paper with excel spread sheets can be purchased at both sites for $249.

Janco's has collected consistent data on browser activity since September 1997. The data is collected from commercial sites that focus on business to business activity. The IT productivity Center anticipates that it will issue an update to it market share data at the end of the fourth quarter of this year.