OSHA Compliant Safety Program with Electronic Forms Released

Safety Program Template (Ver 3.0) contains 8 electronic forms.
Park City UT – As part of the IT Productivity Center and Janco Associates, Inc.'s (JAI) efforts to improve productivity JAI has released its Safety Program template with 8 electronic forms.  The CEO of JAI, Mr. M.V. Janulaitis said, "Forms take time and effort to complete.  Once you add the costs associated with paper tracking and storage, you have the number one productivity killer in the workplace today." In addition he said, "With the new safety program companies now have a solution to a common problem associated with OSHA compliance."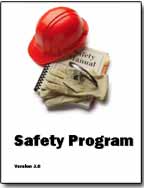 The Safety Program Template is over 40 pages in length, contains electronic forms, and is distributed electronically.  The electronic forms can all be emailed; filed out and signed with a PC, laptop, iPad, or other device; and stored electronically.  The forms included with the template are:  Area Safety Inspection Report; Employee Job Hazard Analysis Acknowledgement; First Report of Injury; Inspection Checklist - Office Areas; Inspection Checklist - Alternative Locations; New Employee Safety Checklist; Safety Program Responsibility Contact List; and Training Record.
The template can be purchased as a standalone item or bundled with the JAI's Disaster Recovery Business Continuity and Security Templates.  JAI's  CEO added, "Most enterprises have disaster recovery and business continuity plans in place, however in a review of 128 companies that have recently has to activate their disaster plans, Janco has found that 64% do not have and or have not followed the protocols to ensure the safety of their employees and critical security needs of their information assets.  It is for this reason that Janco has bundled its Disaster Recovery, Security and Safety Manual templates into packages that can help executives to meet their responsibilities in these three critical areas."
More information on this new offering can be found at https://www.e-janco.com/Disaster-Plan-Safety-security.html.
Order Safety Program Download Safety Program TOC