IT Skill and Salary Trends
Highlights from the Janco Salary Survey
The demand for certain IT skills come and go with the economy. Certain skills are always in demand and others to a lesser degree. As an IT worker are you earning what you are worth? As an IT manager are you paying too much or too little to your IT staff? 
It is helpful to know what other companies are paying in total compensation for a similar position in your area so that you can properly build a budget that is defendable to your boss and accurate when negotiating during a salary review.
---
Latest Median IT Salaries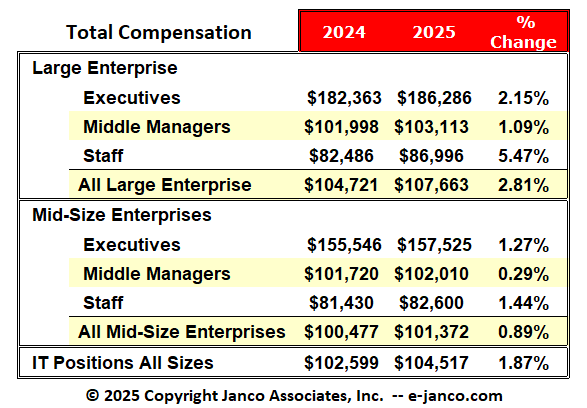 For the latest data go to the current IT Salary Survey
---
IT Skill and Salary Trends
Survey Results
Some recovery has occurred in compensation and hiring of IT Professionals. The total mean compensation for all IT Professionals has increased modestly by 0.35% to $77,873 from $77,604.  This puts overall compensation back at the levels they were at in January 2008.
Middle manager and non-line IT executives continue to feel a salary crunch.
Mid-sized enterprises are now starting to hire staff workers with salaries in this sector increasing the most – Mean compensation is up by 1.44% from $61,047 to $61,924.
Layoffs seem to have tapered off. 
On shore outsourcing has peaked and companies are looking to bring IT operations back into their direct control and reduce operating costs.
Cost reduction is still the rule of the day and there is an increase in the number of "part-timers" and contractors who are focused on particular critical projects.
Companies are continuing to reduce the benefits provided to IT professionals. Though benefits such as health care are available, IT professionals are now paying a greater portion of that cost.
Flexible hours and work schedules are becoming more available as the recovery begins to take hold and is viewed as a low cost high value benefit by both employers and employees.
CIOs compensation has increased over the last 12 months. The mean compensation for CIOs in large enterprises is now $184,681 (an increase of 1.73%) and $163,106 (an increase of 0.49%) in mid-sized enterprises.
CIO demand is almost non-existent as companies who were not pleased with their existing CIO have already replace them and incumbents in those positions are reluctant to move with the current economic conditions.
Mean compensation across all IT professionals has increased by 0.35% (from $77,604 to $77, 873).
In mid-sized enterprises, the mean total compensation for all positions has increased by 0.43% from $73,934 to $74,253.   This is due to an average increase of 1.44% in the non-management staff levels of those enterprises.
In large enterprises, the median compensation has risen slightly from $81,493 to $82,273 .
IT Skills with a high demand
Project Management – especially large projects with short time frame for delivery
Security – focus on mandated compliance issues
Network Administration – wireless and cloud administration
Virtualization (Cloud) – new applications and management of the IT infrastructure
Business and Operational Analysis – focus on business change
Productivity Improvement Analysis – metrics and operational analysis
Web 2 – interactive applications that add value
Database Management – applications that leverage enterprise assets
System Administration – Windows and UNIX management
Desktop Support – standardization and change management