IT Infrastructure, Strategy, and Charter Template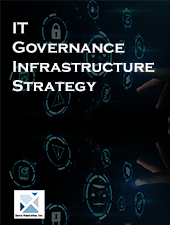 With the explosion of technology into every facet of the day-to-day business environment there is a need to define an effective infrastructure to support operating environment; have a strategy for the deployment and technology; and clearly define responsibilities and accountabilities for the use and application of technology.
Included with the template are a HIPAA Audit Program Guide and a 19 page ISO 27001 and ISO 27002 Security Process Audit Checklist. The Template is 122 pages in length (the full table of contents can be downloaded by clicking on the link above) and the topics covered include:
IT Infrastructure, Strategy, and Charter Summary
Strategy and Charter Statement of Authority
IT Management Structure
Compliance
Personnel Practices
Controls
Application Development Standards
Service Requests
Local Area Network
Back-up and Recovery
Disaster Recovery Plan
Security
Access Control - Physical Site
Access Control - Software and Data
Facility Requirements
Premium and Gold Editions
(Update Service Available) IT Service Management Template and 220 IT and Internet Job Descriptions are available with the in the Premium and Gold edition.
The IT Service Management Policy Template is a 120 page document that contains policies, standards, procedures and metrics that comply with the ITIL Standard. Chapters of the template include:
Service Requests Policy
Service Request Standard
Help Desk Policy
Help Desk Standards
Help Desk Procedures
Help Desk Service Level Agreement
Change Control Standard
Change Control Quality Assurance Standard
Change Control Management Workbook
Documentation Standard
Application Version Control Standard
Version Control Standard
Internet Policy
e-Mail Policy
Electronic Communication Policy
Blog & Personal Web Site Policy
Travel and Off-Site Meeting
Sensitive Information Policy
Standard
Edition
Premium
Edition
Gold
Edition

IT Infrastructure, Strategy, and Charter Template (Word)

X

X

X

IT Service Management (SOA) Template (Word)

X

X

Internet and IT Job Descriptions (each as an individual Word document)

X

Update Service Available

X

X

X
Order IT Strategy Governance Download Sample IT Strategy
Manage Critical Steps in Infrastructure Definition
Defining Your Optimal IT Infrastructure is a critical task that can no longer wait with all of the changes mandated by Sarbanes-Oxley and changes to your operating environment. The template helps you:
Understand and explain what infrastructure is, enabling you, your constituents, and the executive team to manage the organization's technology environment more effectively.
Analyze the current state of your infrastructure so you know where it works well and where to focus improvement efforts.
Justify infrastructure spending, using the template's comprehensive definitions and ready to use examples to link IT infrastructure and your company's bottom line.
Prioritize your resources with a prescriptive toolset that lets you focus your efforts.
An Essential Strategic Advantage for Your IT Team
Implementing a cost effective IT Infrastructure that aligns with your organization's business strategy is essential to ensuring the success of the Information Technology function. For many IT professionals, the amount of time it takes to develop and implement such a infrastructure, and the unknown process required to complete it, makes infrastructure design and implementation a daunting task. The IT Infrastructure, Strategy, and Charter Template draws on the experiences of some of the best IT and business operations executives in the industry to provide you with the right shortcuts.