Formal job descriptions Step One in Managing IT
Formal Job Descriptions Improve Staff Productivity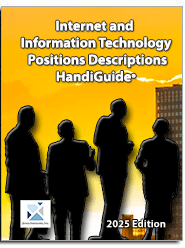 If you are like most of us, you do not enjoy spending time creating and updating job descriptions. You might not know how or where to begin or you may just have too many other things on your plate.
A job description is a starting point for defining what is expected of position and how you measure performance. The Internet & Information Technology Position Descriptions HandiGuide address all the pressing needs of the day - including PCI-DSS, SOX, and HIPAA compliance requirements.
A well written job description provides both the enterprise and the employee with a blueprint for success. It is the basic tool you use to hire, measure, and manage each employee and the IT function as a hole.
The Internet and IT Position Descriptions HandiGuide® was completed in 2009 and is over 600 pages; which includes sample organization charts, a job progression matrix, and Internet and IT job descriptions. The book also addresses Fair Labor Standards, the ADA, and is in a new easier read and modify format.
Also included with the HandiGuide are tools to help you expand, evaluate and define your enterprise's unique additional required. Those tools include:
Job Evaluation Questionnaire
Position Description Questionnaire
Job Progression Matrix (Job Family Classifications)
Sexual Harassment and other key employment issues
Order Job Descriptions Sample Job Description Download Table of Contents
---
IT Hiring Kit Eases the Recruiting Process
Building the IT Staff your company needs to succeed requires offering the right jobs at the right salary levels. Only the IT Hiring Resource Kit provides the industry-standard job descriptions and up-to-date salary data you need to recruit top talent as effectively and efficiently as possible. 
This indispensable resource provides up-to-date salary data gathered through an extensive survey of businesses throughout the United States and Canada, plus polished job descriptions for the 73 IT positions surveyed. This proprietary information will reduce the time it takes to recruit top talent and ensure that you get the right person for each job.
The IT Hiring Kit comes in four (4) versions which include the following components:
Standard Edition - January 2009 IT Salary Survey (PDF report and data in Excel format, 73 full job descriptions for entire survey (PDF format)
Silver Edition - Everything in the standard edition the 73 full job descriptions in Microsoft WORD format each as an individual file that is editable.
Gold Edition - Everything in the silver edition plus the additional job descriptions (220 in total) contained with the Internet and IT Position Descriptions HandiGuide in Microsoft WORD format each as an individual file that is editable.
Platinum Edition - Everything in the gold edition plus the Internet and IT Position Descriptions HandiGuide in PDF format.
Read On IT Hiring Kit Order IT Hiring Kit Download IT Hiring Kit TOC
---
PCI-DSS Compliance Kit
The PCI DSS security requirements apply to all "system components." A system component is defined as any network component, server, or application that is included in or connected to the cardholder data environment. The cardholder data environment is that part of the network that possesses cardholder data or sensitive authentication data. Network components include but are not limited to firewalls, switches, routers, wireless access points, network appliances, and other security appliances. Server types include, but are not limited to the following: web, database, authentication, mail, proxy, network time protocol (NTP), and domain name server (DNS). Applications include all purchased and custom applications, including internal and external (internet) applications.
The PCI-DSS Compliance Kit comes in three versions;
Silver - Contains the e-Commerce, Wireless, and Internet Job Descriptions in WORD and PDF format, the Security Audit Program in WORD format, and the PCI Audit Program in WORD and PDF format.
Gold - Contains the e-Commerce, Wireless, and Internet Job Descriptions in WORD and PDF format, the Security Audit Program in WORD format, the PCI Audit Program in WORD and PDF format, and Network Event Viewer - Unlimited which allows you to monitor an unlimited number of PCs Security.
Platinum - Contains the e-Commerce, Wireless, and Internet Job Descriptions in WORD and PDF format, the Security Audit Program in WORD format, the PCI Audit Program in WORD and PDF format, the Network Event Viewer - Unlimited which allows you to monitor an unlimited number of PCs Security, and the Security Manual Template in WORD format