Data compares over seventy (73) IT positions from 1996 through 2010.  It includes the  dot com bubble, 9/11, the recession of 2002-2003, the recovery in 2006 and the recession of 2008-2010.  The study is available in PDF, PDF with data in an excel spread sheet, and Word format.
Charts showing key compensation trends are provide in all versions of the study.  A reduced version of one of the charts is shown below.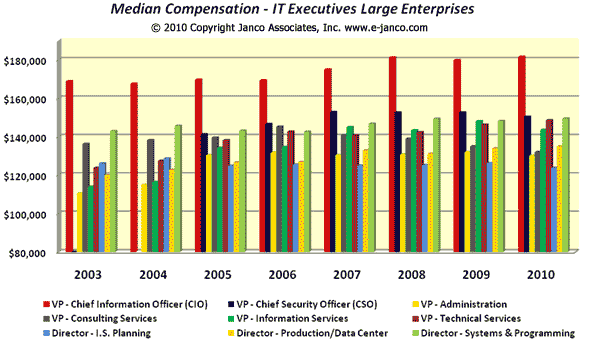 Order Salary Survey Download Salary Survey Sample  
Employment News


---
Cloud a mixed bag for CIOs and IT Professionals

A major research firm recently estimated that the number of cloud-related IT jobs in North America would grow 22% per year from 2012 to 2015, with the total number of positions reaching 2.7 million. The research firm published that finding in a report titled "Climate Change: Cloud's Impact on IT Organizations and Staffing."
They found that cloud computing could become the key infrastructure model for computing by 2030. Other findings include
50% of CIOs felt cloud computing was a high IT priority.
66% of CIOs are planning, implementing, or using cloud computing in some fashion.
75% of CIOs have security, access, or data control concerns with the public or private implementation of cloud computing.
Read On Cloud... Order Now Download Sample How to Cloud Outsourcing
---
High Unemployment States Job Market Improves Slightly
High unemployment states for the most part have improved. In March, the West continued to have the highest regional unemployment rate, 7.2 percent, while the South again had the lowest rate, 6.0 percent. Over the month, only the Midwest had a statistically significant unemployment rate change (-0.1 percentage point). Significant over-the-year rate declines occurred in all four regions: the South (-1.2 percentage points), Northeast (-1.1 points), West (-1.0 point), and Midwest (-0.8 point).
IT Salary Survey Read On Order Salary Survey Download Salary Survey Summary
---
H-1B Visas taken up by outsourcers
Offshore outsourcing companies continued to make up the majority of the top H-1B visa users in 2013, according to new government data. These offshore firms have been adding employees by the thousands as their revenues increase. Infosys (India based) led the list in 2013 with 6,298 visas approved, just edging out Tata (India based) which had 6258 visas approved last year. Cognizant, a New Jersey-based IT services provider with major operations overseas, led the list in 2012 but dropped to 3rd. The company had 5,186 visas in 2013 versus 9,281 visas approved in 2012 versus 5,095 in 2011.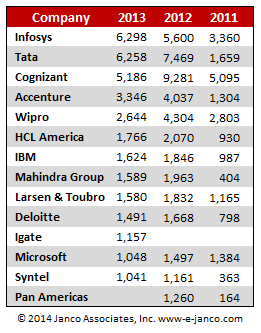 ---
Employment News Digest - IT Job Market Not Positive
Employment Digest
-
more info
---
Career planning is critical for IT Pros
Given the nature of technical work and technical people, most generic career advice is close to useless. And too much of it is just plain unrealistic. You don't need yet another list of 24 things you can do to advance your career.
No one has time to focus on that many things, and honestly, most of them make little difference. It's better to select the one essential thing that will make a big difference and focus on that exclusively.
more info
---
Dowload IT Salary Survey
Get a free copy of the IT Salary Survey. Just got to https://www.e-janco.com/salary.htm.
more info
---
Current College Grads in IT get lower starting salaries
One more study agrees with the salary data that Janco Associates published in January of this year.
Starting salaries for recent college graduates with computer science degrees slipped a bit in 2013. The National Association of Colleges and Employers (NACE) reports in its January 2014 Salary Survey that the overall average starting salary for new graduates rose 2.6% from 2012. But for those with computer science degrees, the average starting salary went from $59,221 in 2012 to $59,084 in 2013, a drop of 0.2%.
more info